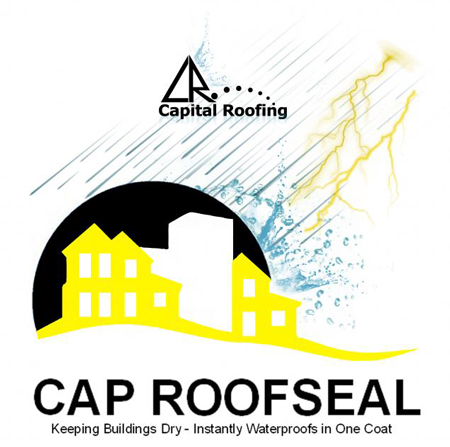 Liquid Roof Coatings - Cap Roofseal
Capital Roofing have been established for over 50 years laying traditional roofing materials such as felt and ashphalt. Both being hot works felt being laid in hot bitumen and asphalt laid as a hot molten material.
Over the last 10 years there has been a decline in hot works. Capital Roofing always being a forward thinking company could see the potential of high performance liquid waterproofing so they bought out one of the country's leading cold applied liquid waterproofing specialists together with most of their work force.
Contact Us For More Information
---
Always one step ahead
Capital has now developed their own liquid waterproofing products called Cap Roofseal and Cap Roofseal Plus. Cap Roofseal is an acrylic roof repair system that has many advantages, the best being that it is impervious to water immediately after applying it to the roof surface. Cap Roofseal Plus has fibres added during the manufacturing process making it an ideal product for roof overlays and repairs.
The products have been in use for the last 5 years and accelerated tests have been carried out to 10 years with no cracking or signs of wear. As of June 2010 tests are still being carried out with very successful results. Cap Roofseal has already been used by several London local authorities, schools, housing associations and churches. Housing associations are particularly pleased with the product because of its flexibility, durability and aesthetically pleasing appearance. It really does do what is says on the tin.